Vegan Chickpea Cookie Dough Recipe + The Perfect Sides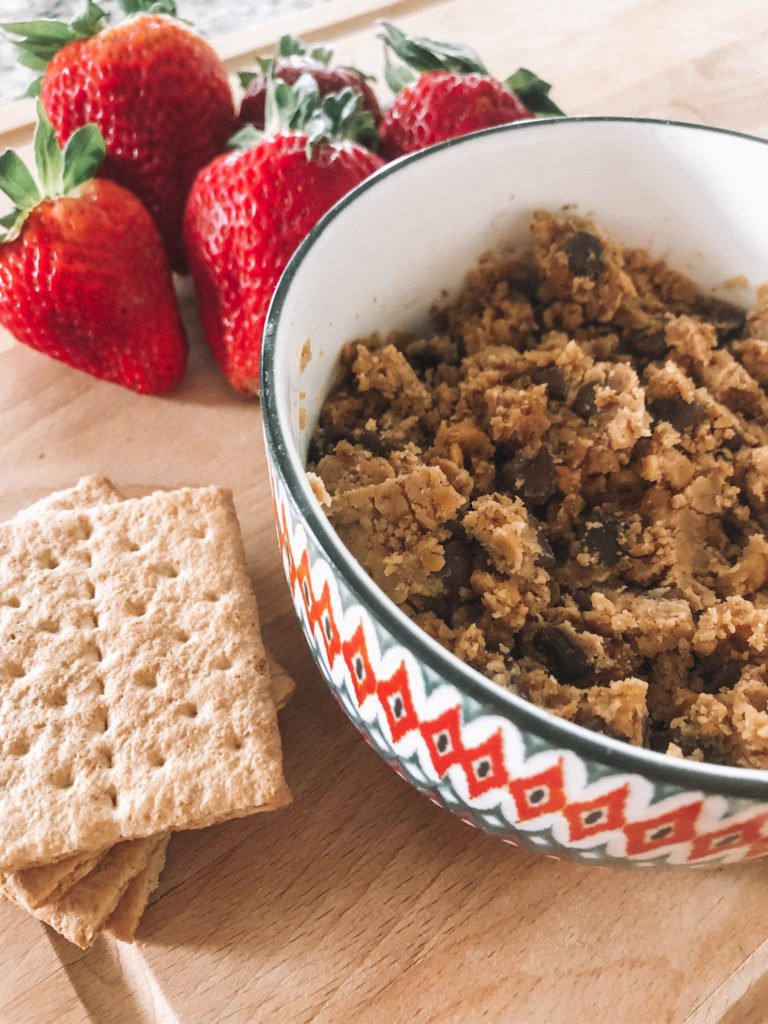 My love for anything sugary or sweet rivals a hyperactive 5 year old that was given free range and $100 to spend in a candy store.
Absolutely and utterly out of control.
I have been a sucker for sweets ever since I was a little kid. But now, I am 21, and I sadly do not have the metabolism of my 12 year old self, that could eat 7 sprinkle cookies from the Publix Bakery and still fit into my Justin Bieber concert tee from the My World 2.0 tour without batting an eyelash.
It's a sad realization, but you can't dwell in it.
Ya gotta let the good times roll!!
So given that I have accepted that my metabolism has changed and that I have begun to discover the benefits of a healthier diet, I sought out to find the best way to cure my sugar cravings in a manner that offered healthy benefits and allowed me to indulge in the finer things in life. What I found was a life-changing recipe for vegan cookie dough that can be consumed raw. Guess what it was made out of…
CHICKPEAS.
Lemme say it louder for the people in the back.
CHICKPEAS!!!!!
I know what you are thinking…there is no way in h-e-double hockey sticks that I am eating that!!!
Think again, Janice. I promise, that if this tasted bad, I would not eat it…or post it on my personal website to share with the people of the world wide web. This recipe is guilt and gluten free, and has healthy benefits as the chickpeas are a great source of protein and combined with the peanut butter, which also has good fats and protein in it, makes for a tasty and filling snack!
I have made this 3 different recipes, and have critiqued and changed ingredients and measurements (yes, I did MATH…my 2nd grade math tutor would be so proud that I used my fraction skills!!!) to make The Best Vegan Cookie Dough Recipe!
Boys & girls…ladies and gentlemen… Here She is!!!
THE BEST VEGAN COOKIE DOUGH (warning: may be consumed rapidly)
Ingredients:
1 can of Chickpeas
3/4 Cup of Peanut Butter (I recommend the Trader Joe's Chunky brand)
2-1/2 Tablespoons of Honey (or Maple Syrup)
1/2 Teaspoon of Cinnamon
2-1/2 Teaspoons of Vanilla Extract
1/2 teaspoon of Salt
Chocolate Chips- Please note that there is not a number here, because you should never EVER be limited to the amount of chocolate chips in a recipe. Use the whole bag! The more the merrier! This is a matter of the heart, not science.
Alright. LET'S GET BAKING!
Step One: Drain those chickpeas and lightly dry them off.
Here comes the ~unique~ part.
Step 2: Peel the Chickpeas (no, I am not kidding…Just do it)
Peeling the chickpeas and taking the shell off will help make your cookie dough blend more smoothly, giving it that authentic homeade feel that will bring back memories of 3rd grade sleepovers and First Days of School! How sweet!
Step 2: Put the peeled chickpeas into a food processor or blender. Add the vanilla, peanut butter, salt, honey (tbh, you can completely just eyeball this one and just do a couple laps around the blender…we are talking about 3 fast ones here).
Step 3: BLEND IT! BLEND IT REAL GOOD!
Step 4: With grace, gently fold in the chocolate chips….eat a couple of them too.
Step 5: Taste test a teeny-tiny sample!
Step 6: Refrigerate for 1-1.5 hours for the best result!
BAM. Ya got a healthier alternative to cure those sugar cravings and the perfect snack to be your companion for this week's episode of the Bachelorette (which I begrudingly started this season, and initially watched it for comedic relief…to now being 5 episodes in, and planning my Monday schedule around 8pm….but that's another story). After MANY taste tests, I , plus my friends who I have forced encouraged to try this, all agree that graham crackers, cool whip, and strawberries all pair perfectly with this.
So go on girl!Go make some vegan cookie dough & eat it for breakfast and live your best life!
& don't feel the slightest bit guilty when you devour the entire bowl….it's healthy 🙂
xoxo,
your fellow foodie & chocolate chip enthusiast,
Sarah Noelle